DataMaster Lab awards Epson Five Stars for its WorkForce AM-C business inkjet series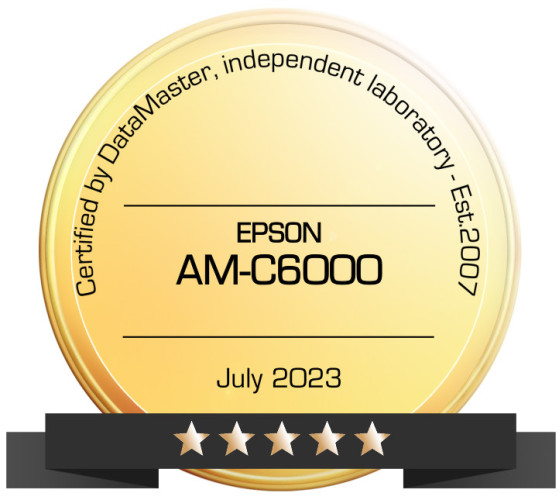 DataMaster Lab, a leading testing house for office printers, has awarded Epson's AM-C A3 colour multi-functional business inkjet printers a five-star review. After rigorous testing of the range, they were deemed to be: "Simply the most productive inkjet copiers ever (duplex printing, stapling, scan processing), and more productive than many of their high-end toner competitors." The range was also called out for its "Exemplary environmental credentials," with the testing confirming they "only consume 115 Watts when printing." Further, DataMaster highlights the low volume of consumables changes needed, surmising they require less than half the service call outs needed by toner competitors
1
, further reducing the impact they have on the environment.
Gareth Jay, Epson Europe, said of the review: "Such recognition from a prestigious independent testing house like DataMaster is a fabulous endorsement of the effort we have put into producing a range of products that's not only highly productive and efficient, but also makes strides in improving the sustainability of print. We are delighted this effort has been recognised." The Epson AM-C series is a range of 40-60ppm static line-head business inkjet printers that leverage Epson's Piezo Heat-Free inkjet technology. The series was launched last year to close a previous gap in Epson's A3 business product portfolio. Available with a full range of support from Managed Print Service and Print Admin packages through to Remote Service solutions, these products enable a low maintenance, high quality, reliable, sustainable print system.
Author profile
Matina Vorria
Marketing Service Specialist, Epson Greece
About Epson
Epson is a global technology leader dedicated to co-creating sustainability and enriching communities by leveraging its efficient, compact, and precision technologies and digital technologies to connect people, things, and information. The company is focused on solving societal issues through innovations in home and office printing, commercial and industrial printing, manufacturing, visual and lifestyle. Epson will become carbon negative and eliminate use of exhaustible underground resources such as oil and metal by 2050.
Led by the Japan-based Seiko Epson Corporation, the worldwide Epson Group generates annual sales of around JPY 1 trillion.
Article Information
DATE PUBLISHED
TAGS
DataMaster,
WorkForceAMC
Downloads
Related press releases